J: Sissy, Mommy said I have to put this stupid looking fish face thing over my mouth and breathe in that foul mist that sprays out.


J: I refuse! This is abuse!...Torture!...Cruel and unusual punishment!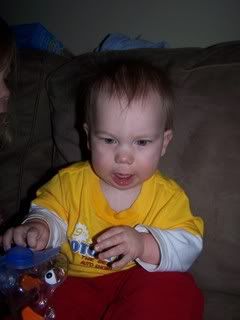 M:Bubba, its otay. It make you all beddor. Sissy do it.
J: What is it about REFUSE that you don't get Sis?


M: Iss otay Jackie, Sissy here. I give you hug.
J: Dont think that a hug will make me forget what you just put me through!


J: Okay, Okay, I guess I can sort of forgive you...after all, Mommy just sat there and watched, so really its her fault anyway...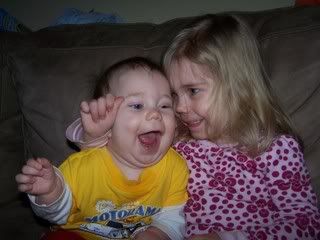 M:Bubba I wuv ewe!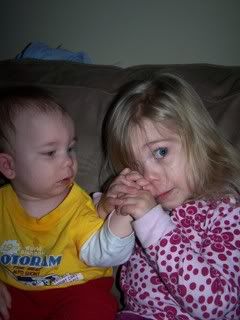 THE END...


But really, Jackson is doing sooooo much better than he was last week. His follow up is tomorrow afternoon, so hopefully we wont have to continue the treatments much longer *insert squeals of joy from Jack-Jack*. He HATES the breathing treatments. At first he tolerated them, now it is all out war to get him to sit still so I can hold it to his face. Its so pittiful. Makenna has become quite the nurses aide, turning on and off his machine, putting the medicine in the nebulizer, and 'trying' to hold it for him. She loves her brother so much.