This is going to be a long one...

Ok, I am happy to announce that I GOT A JOB!!!!!!!!!!!!!! It only took 3 weeks to get the final word, but I got it! I will be the assistant manager at Oak Park Village Apartments. It is a 500+ unit complex about 5 minutes from home and 2 minutes from Megan's house where the kids will be. It pays REALLY well and has good benefits (so I hear). I will start January 5th. I am really looking forward to getting back to work and getting out of the hole we've been living in. The best part is it shouldn't take too long to get us back on top thanks to my salary. We're by no means going to be moving out to Halbrook or anything, but for as broke as we've been for as long as we've been, this is a very welcome blessing.
Speaking of blessings, I've been going to church again. By again, I mean the last time I was at church for church was before I was even a teenager. On my own accord I decided it was my time to seek some devine intervention. I became a beliver in prayer by following the Kayleigh Anne Freeman Blog. You know the little girl who wasn't supposed to make it...well, the little fighter is stunning everyone and is healing. It is a true miracle. There was no hope other than prayer and well...the proof is in the pudding so to speak. I am going to Unity. A non-denominational church that focuses on the Christ spirit within all of us. I love it. The since of community is awesome and I feel so welcomed. Makenna is going to the nursery room until she is 3 and she gets to start her sunday school classes. My favorite part is at the end of every service, they bring all the kids to the front of the church to sing the peace song. Makenna LOVES this part. Have I mentioned lately how much she loves the stage?
Another wonderful thing that has happened this week is I got a very welcomed and VERY UNEXPECTED apology from my father in law this week. We have had a very strained relationship the past few years, and we have actually come a long way this year. I had already forgiven him on my own, but he had NEVER so much as acknowleged anything had ever happened. This phone call was very awkward, but in a good way. First off, he never calls to talk to me. This time he called my phone and said "honey, I need to talk to you for a minute" I said "ok?" He proceeds to tell me how much he loves me and that he never meant to hurt me like he did and he was so sorry for the way he had acted in the past. Those words were like instant healing to my heart. It was something that I had been longing for and something I had given up on. I had decided it wasn't helpful to me to hold my resentment as strongly as I was. But still there was hurt there that no ammount of forgiveness can take away, and by him apologizing, it took so much of the hurt away. I am very hopeful that we will continue to improve our relationship and become the friends we once were. I do love the SOB...
Our Christmas was great! We did our traditional family gathering at Brian and Terri's house. None of Dad's side showed up except for his brother who came by for about 10 minutes and somehow forgot about my children but remembered gifts for Sam & Jake...nice huh? But I'm not even upset about it. Its just more rediculousness from them. The rest of the day into night was a blast! Makenna and Sam ran around like mad children. This was day 3 of them playing together all day, and day number 3 of no nap for Makenna so she was tired! She slept until 9am this morning and that is way late for her. Then she took a 3 hour nap and went to bed without a hitch. Its been great! The kids were of course spoiled rotten by Grandma & Grandpa and all the aunts and uncles! We also got a special appearance by the big man himself, Santa! (aka Papa) Emily and Christian announced to the rest of the family that they were engaged and gave out the pics I took for their engagement. We made a ton more memories for the happy times vault and everyone left happy, fat and tired. We even squeezed in a family shot with all the new additions (babies, booyfriends, fiances). If you'll notice all the kiddos are in jammies and everyone looks exhausted...that is because it was taken around 10pm after the ALL DAY festivites. I hope everyone elses Christmas rivaled our good time!
Jackson's surgery is a week from today. I am starting to get very nervous. I watched a show on TLC today where a baby had to go in for a minor surgery, and I bawled like a baby knowing in a week I will be watching them stick my baby with an IV and watch as they wheel him behind a set of overbearing double doors. It maybe a minor surgery but it is a major heartache for me. He does have a cold that seems to be moving into his chest, so there is a chance that they may have to re-schedule until he is healthy. On one hand I hope for that, but on the other it will just prolong the worry. Please say a little prayer for my little man!
Makenna got a large box of 'dress up' outfits from her Aunt Ashey. In this box of greatness was a little microphone. She discovered this tonight and for about an hour straight proceeded to sing and perform in front of us her 'rap' version of Twinkle Little Star and her beautiful rendition of Jingle Bells and Wish You a Merry Christmas as well as many other unrecognizable songs. I swear she is a natural. I wish my camera wasn't dead or I would have shot about a billion pics. I am so in awe of her. Her spunk and personality is just amazing. I asked her tonight if she wanted to do singing lessons or dance lessons to which she responded "both, I'm going to sing and dance at Chuck E Cheese!" (of course it wasn't so annunciated, but I understood what she was saying.) Her new favorite phrase is "______ not koporating" ('fill in the blank' not cooperating". Tonight her Jammie pants were not koporating and it was very 'Noying'. I don't know where she gets these things...LOL
Ok, I'm going to wrap it up now. Not that you will notice but I am doing some blog cleaning and getting rid of some of the more negative blogs. Things are really going to start getting better, and I want to focus on the positives again.
Please enjoy the 500 pics I'm about to post as well!..No really, there are a TON!


Cuteness before Chaos...


Now what have we got here?


Wow I must have been good! Santa brought me candy!


WooHooHoo score!


The big cheese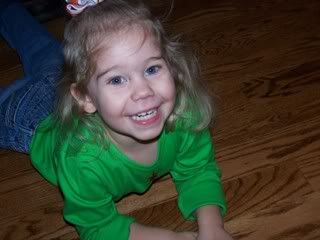 Mak & Aunt Emmy


Jake & Gramma (Jake by the way is HUGE!)


Santa visits


Jackson and Unle Brian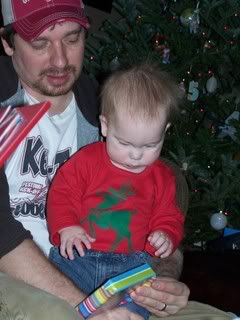 Mmm paper!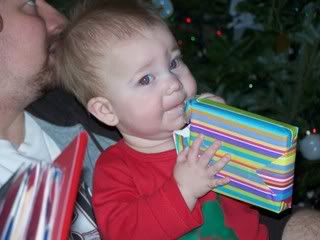 more paper!


The Whole Fam-Damily (the 'fun' shot..notice the nerf guns)
back: Brian, Mom, Dad, Charlie
front: Terri, Sam, Emily, Makenna, Christian, Jack, Me, Ashley, Matt


Aunt Ashey & Sammy


Matt & Ash


And finally...Congrats to my lil'sis and her man!